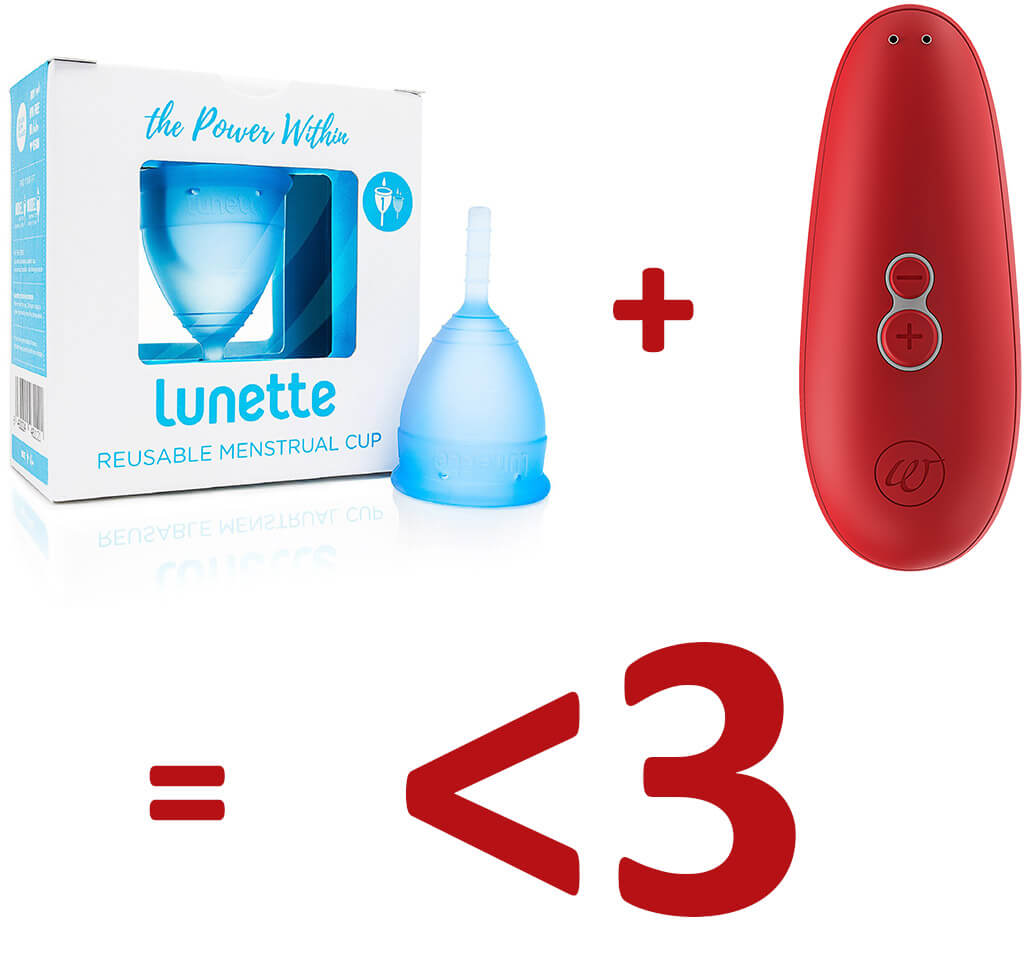 We are looking worldwide for 1,000 people who menstruate to be part of our Menstrubation Initiative. The testing period will be three months.
You experience menstrual pain.
Over three months, we ask that all participants masturbate to help ease their menstrual pain. After each period, all participants fill out a short survey and share their experiences with us. After three months we will analyze the results and share them with the world. Of course all participants will remain anonymous.
You can find the registration form below.
Lunette and Womanizer have jointly launched the Menstrubation Intitiative. Menstrubation stands for menstruation and masturbation – two topics which, when viewed separately, already represent two major social taboos.
We are now bringing them together to not only help fight the taboos, but also to look at whether orgasms can help ease period pain, and if so, to what extent.
We are looking for 1,000 people who menstruate, aged 18 and over. The participants will complete a total of five short surveys. Participation is completely anonymous, although we will need to ask for some personal information in order to ship the products. For more information, see the conditions of participation and privacy policy.
Simply fill out the form below. We will check all submissions and contact the final participants by mail.
We are looking forward to your support! Join the Menstrubation Initiative and let's finally normalize menstruation and masturbation.
The deadline is 31st May 2020.
Team #menstrubation
Thank you for your interest!
About 20.000 menstruating people have registered withing the application period. We are happy to see that the initiative has been received with so much enthusiasm.
The results will be published in a few months. You don't want to miss that? Than register for our Womanizer newsletter. We will keep you informed about similar initiatives and other news.
Breaking bloody taboos since 2005, the Lunette Menstrual Cup was created by Heli Kurjanen in Finland where it achieved strong sales, expanding quickly globally. Not only does Lunette Cup provide you with a safe, ecological and economical way to live with periods – it is also changing attitudes about them.
Passionate about creating positive change and breaking taboos, Lunette has been supporting global efforts surrounding issues in period poverty, sustainability and human rights through various giving back projects and sexual health education. Lunette promotes an open discussion about menstruation with not only women, but men also.
Today, Lunette Cups are sold in close to 50 countries, with a loyal fanbase all over the world, receiving high appraisals for its excellent customer service. There are also extra benefits to having no strings attached -the cup enables mess-free masturbation or oral sex during periods, being so discreet you won't even notice it's there. Just some of the many reasons why 99% of users recommend Lunette Cup to their friends.

Womanizer is a leading brand for premium products for your pleasure. Invented in 2014 by Michael and Brigitte Lenke with the aim of reducing the so-called "orgasm gap" between men and women.
What is special about Womanizer products? All toys contain the patented Pleasure Air Technology which stimulates the sensitive nerve endings of the clitoris contact-free with sucking and massaging air vibrations. Many women compare the feeling to that of oral sex.
Womanizer empowers everyone to find sexual fulfilment. With the launch of the #imasturbate campaign last year, Womanizer advocates for an open dialogue about masturbation and aims to destigmatize it. Because masturbation is practiced self-love! It is beautiful, wonderful and completely normal, no matter how you do it. Solo sex makes it possible to explore and get to know one's own body – this empowers women to talk about and communicate their needs better.